"Explore Fairfield County" is an informational series that provides a glimpse into the wonderful towns and cities in Fairfield County. Fairfield County is diverse in that it includes big cities, small suburbs, beaches, farms, and busy highways. It covers a large geographic area and, because of this, it has a lot to offer families! To help you get the most out of Fairfield County, our contributors have shared the top 10 things they love about each local area. To read more in this series, click here.
The town of Stratford is the easternmost town in Fairfield County – Connecticut's Gold Coast. Situated on Long Island Sound with the Housatonic River to the east, Stratford offers a landscape full of quaint beaches and tranquil water views. With a population of approximately 52,112, this historic town is well known for being the home to Sikorsky Aircraft. Stratford has nine public elementary schools, two parochial schools (K-8), two public middle schools, and two public high schools. Here are the top 10 things that I love about this town:
1. The Sea Wall
If you are looking for the right spot to take in the beauty of the sound, the Sea Wall on Shoreline Drive is the perfect place. Whether you'd like to watch the sunset, sit and relax or start a seaside walk, young and old love this scenic location. This is a great spot to park, take the kids for a walk, and watch locals fish. Parking is free!
2. Paradise Green
The "Green" is a stretch of public land where locals meet at the gazebo for festivals and concerts throughout the year. Paradise Green is a staple among the community, surrounded by a shopping area with an old town feel and within walking distance to family neighborhoods. Offering delicious eateries, ice cream, and even the popular Star Factory Party Zone. Check out the iconic Paradise Pizza, Open Door Tea, or The Sitting Duck Tavern for a bite to eat.
Boothe Memorial Park & Museum sits on 32 acres. It was the estate of the Boothe family for many generations and willed to the town in 1949 for the public to enjoy. The sprawling grounds are home to some unique buildings, picturesque gardens, and a new handicapped-accessible playground. It's a great spot for a photo shoot or to bring a picnic. The Great Pumpkin Festival is a big attraction in the fall, and various concerts and events occur year-round. The park is free and offers plenty of parking to all.
Just a few blocks away from Paradise Green lies Longbrook Park. One of the many highlights of this park is a free fenced-in splash pad to bring those hot toddlers on a sunny day. Just opposite the splash pad is the Vicki Soto Memorial Playground. Decorated with flamingos and Christmas trees, it was built here in 2013 as part of the Where Angels Play Foundation. If your kiddo needs a stroller ride or is a lover of wildlife, a quaint little duck pond is around the corner.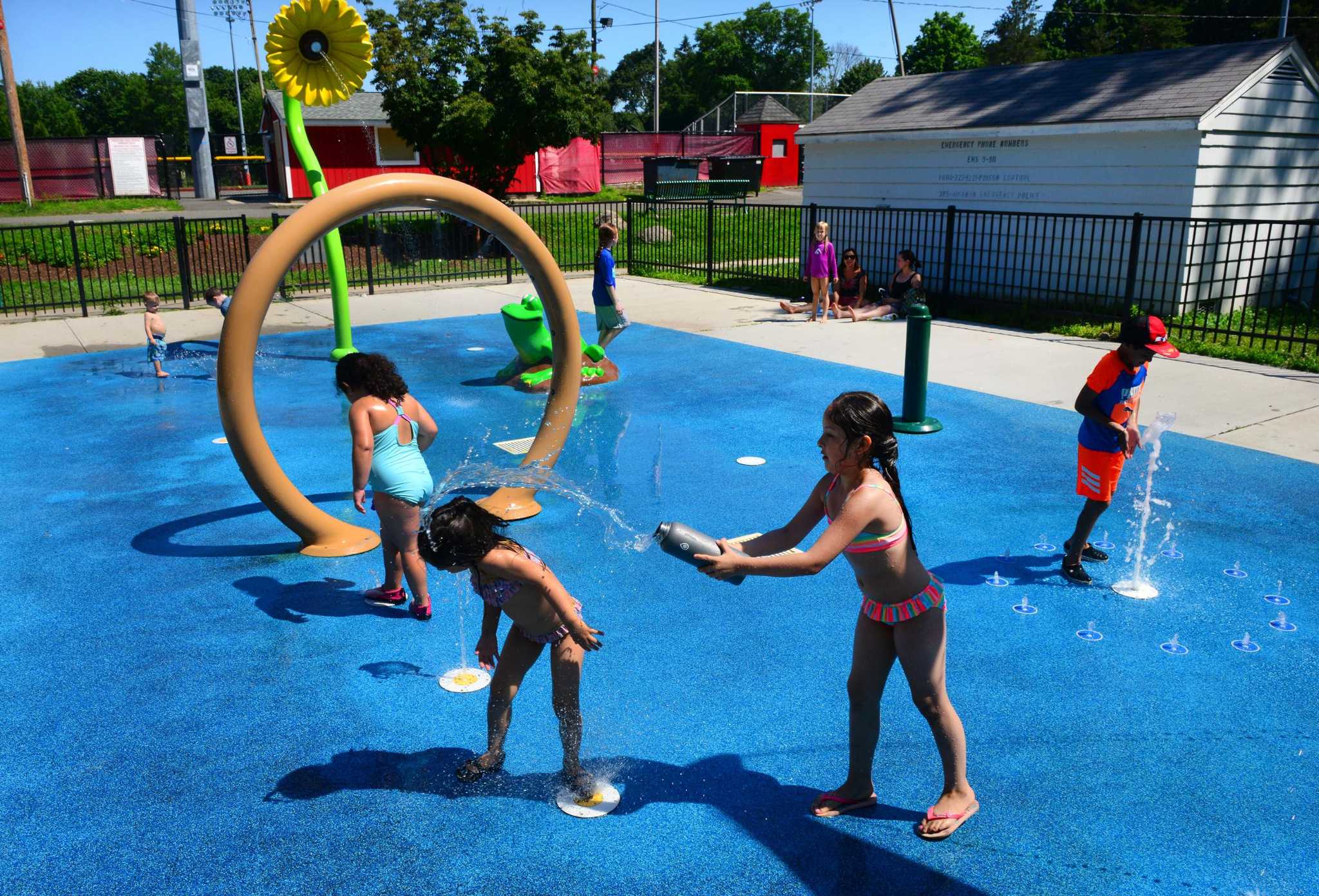 Built in 1896, the Stratford Library is a beautiful, historic building that may be my favorite library in Fairfield County to visit. This library hosts many events for children, teens, and adults year-round. Be sure to check out their uCreate space, "Where people of all ages can gather to learn, create and share."
Who doesn't love an ice-cold craft beer? Stratford is lucky enough to be home to its own famous brewery! Two Roads was named one of the 10 best breweries in America by Paste Magazine and has won numerous awards. Founded in 2012, this brewery offers tastings throughout the week, with local food trucks offering tasty nibbles. For a schedule of their tasting hours, events, and food truck offerings, check out their website. You can find their beer at most liquor stores in the tri-state area and beyond!
7. Lordship
This waterfront neighborhood of Stratford is where this mama goes to get her "beach hair, don't care" fix! Just driving down 113 makes you want to roll down your windows and turn up the radio. There are multiple beaches in Lordship, but Short Beach is the most popular with its large playground for the little kids and volleyball nets for the big kids. Events in Lordship include the "Summer Sunset Concert Series" in July and the Vicki Soto 5K in November.
8. Memorial Day Parade
If your children are like mine, they love to check out a local parade in hopes of tossed candy (and begging for a balloon). Stratford hosts their annual Memorial Day Parade every Memorial Day down Main Street. Set up a spot close to Paradise Green and cheer on veterans, local bands, sports teams, and more!
If you mention Stratford, CT, it is likely that a friend or two will know someone who works at Sikorsky Aircraft. Sikorsky was established in the 1920s by Igor Sikorsky, the manufacturer of the first helicopter! With a rich history of aircraft, it is no surprise that Stratford is home to the Connecticut Air and Space Center. This is an air museum that displays vintage aircraft, memorabilia, and artifacts that pertain to Connecticut.
A deciduous forest and wildlife sanctuary, this quaint location has a playground, hiking trails, cooking pits, and restrooms. Located on 700 Peters Lane in the Oronoque neighborhood of Stratford, parking requires a sticker, but many people park along the road. This is the best spot for a short family hike in the quiet of nature.
Have you visited Stratford? Do you live here? What do you love about it?
Be sure to read all the posts in our Explore Fairfield County Series by clicking here.